Volunteer Centre Bexley currently run, or support, the following projects;
Do you currently volunteer in Bexley and love what you do?  We are looking for enthusiastic and dedicated volunteers to help spread the word about volunteering and get more people involved.  We believe that current volunteers can inform local people about volunteering far better than we can, but we need your help.  You will form part of a network of passionate people throughout the borough, who promote volunteering and Volunteer Centre Bexley (VCB), with the aim of attracting new volunteers and highlighting the benefits of volunteering.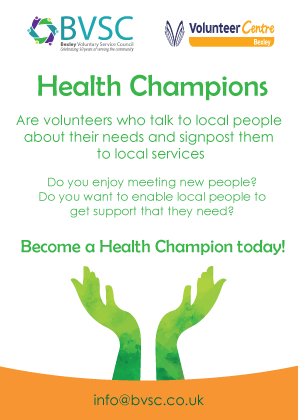 There are a range of local community organisations that can support residents experiencing social, emotional and practical needs to reduce social isolation and improve wellbeing.  They offer many services that can help residents but navigating what is available and accessing local services can be difficult.  Health Champions work at a variety of GP practices in Bexley to identify patients who may need support beyond what their GP can offer.  They also work in the community at day centres and libraries.
Volunteer Centre Bexley supports organisations to offer a volunteer car scheme to local people.  There are many elderly, vulnerable or disabled people who aren't able to access local services like GPs, day centres and many others without the support of volunteer drivers.  We are currently looking for two types of drivers: firstly volunteer drivers who will use their own car to drive local people (mileage costs paid) and secondly, volunteer minibus drivers.
Click here to contact us to register your interest