Submitted by

adam@bvsc.co.uk

on Wed, 11/15/2017 - 15:51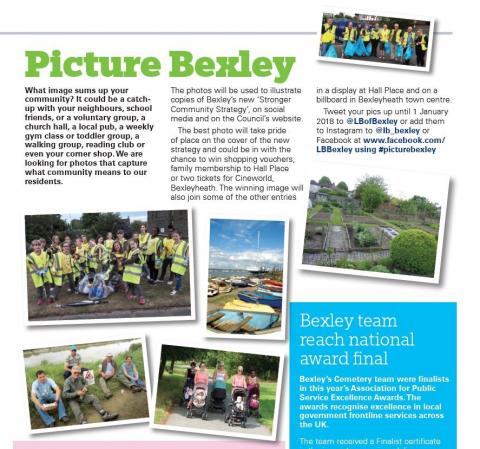 LBB's Stronger Communities Team are holding a new competition in the Borough, here's what they have to say:
We would love for you to submit images that best sums ups what community means to you. We are looking for a range of images that capture different concepts of community across the borough; past, present and future! From volunteering, family and friends, faith events and most recently, Bonfire night! The images don't need to be recent but can be from past events that best show what your community means to you. The photos will be used to illustrate copies of Bexley's new 'Stronger Community Strategy' as well as be in the running for an array of prizes including cinema tickets and high street vouchers. The 3 best photos will be on display in the visitor centre in Hall Place in the New Year! 
Feel free to get creative and innovative to display what Bexley means to you, here are some categories to inspire you:
Environment and Wildlife (includes parks and architecture)
Arts and culture (street art)
Living (family and friends)
Leisure (coaching, hobbies, sport events)
Education (school, libraries)
Explore (miscellaneous)
Volunteering (befriending, neighbours)
Faith events (Ramadan, Diwali, Christmas etc.) 
Tweet, Instagram or Facebook your images using the #picturebexley or send in pictures to stronger.communities@bexley.gov.uk. The competition closes on the 1st January 2018 - Please Note: The competition is open to individual entries; please share this with your beneficiaries but let them know they will have to enter the competition individually in order to claim the prizes.